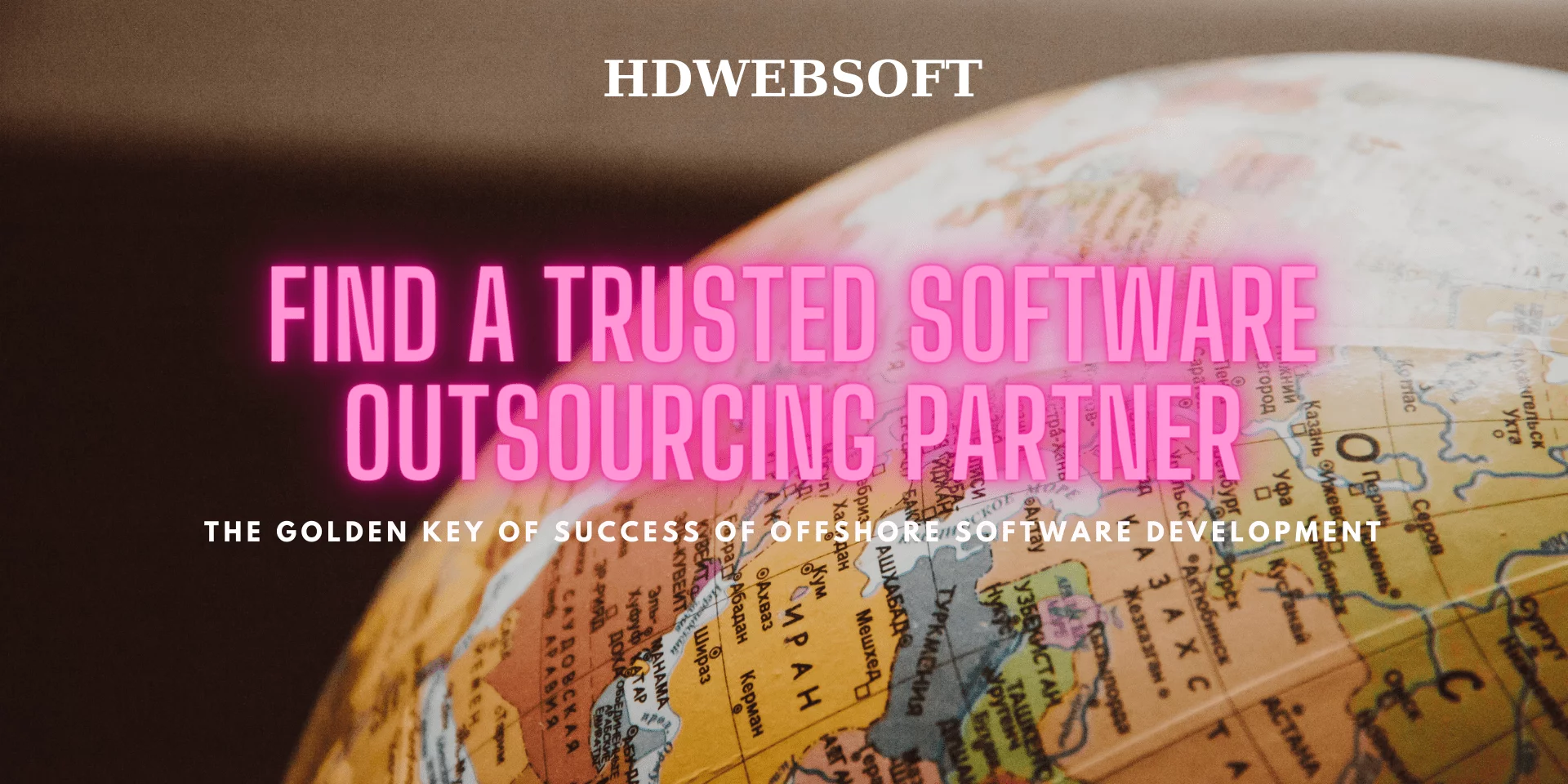 Find a Trusted Software Outsourcing Partner – The Golden Key of Success of Offshore Software Development
With the rise in demand for software outsourcing and offshore software development, the market is seeing an influx of service providers offering various attractive pricing options. As a result, it leads to a scenario where finding a software partner is accessible yet challenging for a software development partner you can trust. In other words, despite having plenty of options, it is not easy to find a trustworthy partner. Acknowledging the difficulty, we compile a list of factors helping find the software outsourcing and offshore development partner you can trust.
Differentiating the Types of Outsourcing Services
First of all, it is crucial to understand what "outsourcing service" is and its types. Generally, there are three distinctive types of outsourcing services. Let's have a look at them in detail. After that, we hope you can grasp the differences and find yourself the most suitable solution.
Nearshoring
A nearshoring is hiring a third party in nearby geography with no time and culture gap. Furthermore, thanks to the closing in geography, it creates convenience in the collaboration. Precisely, business owners can visit and meet their outsourcing development partners in person to eliminate potential issues in the software development process.
For instance, a company in Singapore hires an outsourcing company in Vietnam. These regions share the same time zone so Vietnam, in this case, is a nearshoring outsourcing company to Singapore.
Onshoring
Onshoring is one of the most effective outsourcing types. In fact, onshoring means that both clients and the outsourcing partner are located in the same country. It is the only type of outsourcing with no language barriers or culture shocks. As a result, it accelerates the development process and creates a conducive environment for meetings and information sharing. However, the development costs will be higher than other outsourcing types.
For example, business owners in Vietnam hire a software outsourcing company within Vietnam to develop their ideal application. In a word, for Vietnamese companies, Vietnam is an onshore outsourcing destination.
Offshoring
A bit different from nearshoring, offshore outsourcing is hiring a reliable software company from distant countries. It is sometimes a collaboration between two continents. With the huge distance, offshoring is more cost-effective thanks to low labor costs, incentives, current exchanges or taxes. Furthermore, it offers multiple resources. However, as its big disadvantages, language barriers and time zone make the development process as well as information exchanges challenging.
In this case, taking the United States and Vietnam as an example, companies in the U.S choose Vietnam as their outsourcing destination. In a word, a business owner in the U.S holds a collaboration with the Vietnamese company as an offshore outsourcing partner.
Tips to Find Trusted Software Outsourcing Partner
Based on our 10+ years of experience in providing software outsourcing services, we have gained knowledge of what makes offshore software development successful. Therefore, we compile a list of tips to help you find your trusted software outsourcing partner for a success of offshore software development. In fact, finding a reliable software outsourcing partner is the initial step for a successful collaboration. Hence, it is advisable that you should not skip any step.
Set your Goals
It is crucial that you set out your goals. In fact, it is a guideline to assist you in determining a trustworthy partner with specific traits and expectations. Therefore, you must spend time on filling out each in detail.
Define Project Objectives
First of all, you should know your software's primary function. To be exact, you need to answer all the questions relating to your project objectives as below.
Who is your target audience?
Which types of your project is?
How does it work?
Which main tasks do your projects focus on?
…
Take your time to answer these questions in-depth since it will be beneficial for your hiring outsourcing process, development cycle, and business strategy.
Define Project Expectations
In this stage, you should set out expectations on your project. Do not neglect this since it helps you evaluate your project's final outcome. We propose a set of questions for your reference.
How does it function?
How is its appearance?
Which models does it follow?
What are its highlights?
How is its traffic-driven capability?
…
Define Project Scope
Preparing yourself a project's scope in advance ensures that everything is on schedule. Precisely, it is recommended that you set out all the requirements for the project and a set of activities it has. Obviously, further demand should be included and delivered concisely. Additionally, a clear scope eliminates unnecessary work or misunderstandings between joint parties.
Define Technical Development Tool
This is your project; therefore, you should study which type of technical development tool is best-suited for the product in advance. In fact, you can have a consulting meeting with some experts for further advice. However, it is vital to identify and list potential technical tools for your project's development.
This stage must be clear and well-prepared since it will crystallize your development process. For instance, if you want to develop a mobile application, it is essential to figure out whether to use iOS or Android.
Once you make this stage crystal clear, your budget decision step becomes easier.
Define Project Budget
As one of the determinant factors, the project budget must be well-defined. In this stage, it is advisable to conduct extensive research. Take a peek at various best software outsourcing development companies to determine whether they fit your budget. Besides, you can estimate a reasonable budget based on studying outsourcing prices from many software development firms. Furthermore, you should notice the expense when hiring developers by hours or by a project. To be exact, the costs are variable and different.
Last but not least, you should carefully consider the work's quality. Do not choose any firm due to its lowest expenses. In fact, it is vital to balance both price and quality for the wisest choice.
Define Outsourcing Types
As mentioned above, there are three types of outsourcing services. Therefore, you had better figure out which type that works best for you. Let's see in detail these pros and cons of each outsourcing type.
| | | | |
| --- | --- | --- | --- |
| | Nearshoring | Onshoring | Offshoring |
| Costs | Lower expense | Highest to the others | Lowest expense |
| Time zone | Same or a slight difference in time zone | Same time zone | A gap in time zone |
| Geography | Nearby | In the same country | A huge gap in distance |
| Risky level | Fairly | Lowest | Highest |
Since each type has its own advantages and disadvantages, it is critical that you find the type meeting your requirements as well as fitting your budget.
Compile a List of Potential Partners
After setting out all considerable factors, you should prepare a list of at least 5 candidates that fits your budgets, traits, and criteria.
Do Insight Research
Insight research needs to be conducted carefully. You can learn from others' experience, read the feedback, and study candidates' portfolios. It is preferable to take advice from IT professionals and get their suggestions as reference. In addition, you should collect information from various sources to evaluate candidates. In fact, you should spend time on doing research to ensure that the partner can develop your complex, robust, and well-designed application. Above all, your research should include prices and your evaluation on their work (if possible).
Focus on Value
As discussed earlier, we should not omit the quality of a product. A good and trusted software outsourcing company has to produce a product which is high quality with affordable development cost. In a word, quality and cost should be equally priorities.
Last but not least, as a friendly reminder, we should not go for the cheapest software solution vendors. Instead, you learn and discuss with them to identify their traits and their capabilities before going to further decisions.
Besides all suggested factors above, let's check out the blog of How to choose the right software development partner in Vietnam.
Conclusion
Since offshoring is a type of software outsourcing service, having a trusted software outsourcing development partner means the success of offshore software development. Precisely, it benefits your ideal products at an affordable price. Moreover, it strengthens your position in the field and gives you a reliable partner in the business affair. In a word, a trusted software outsourcing partner is a golden key for a trusted offshore software development collaboration.
HDWEBSOFT is praised for developing high-quality projects at the most competitive developing cost. We are trusted and top-rated by many business giants worldwide thanks to our 250+ resounding successful products. At HDWEBSOFT, we ensure top-notch offshore software development services, which benefit your projects. As our guarantee, our dedicated developers focus on inventing robust and feature-rich applications that accelerate your business.