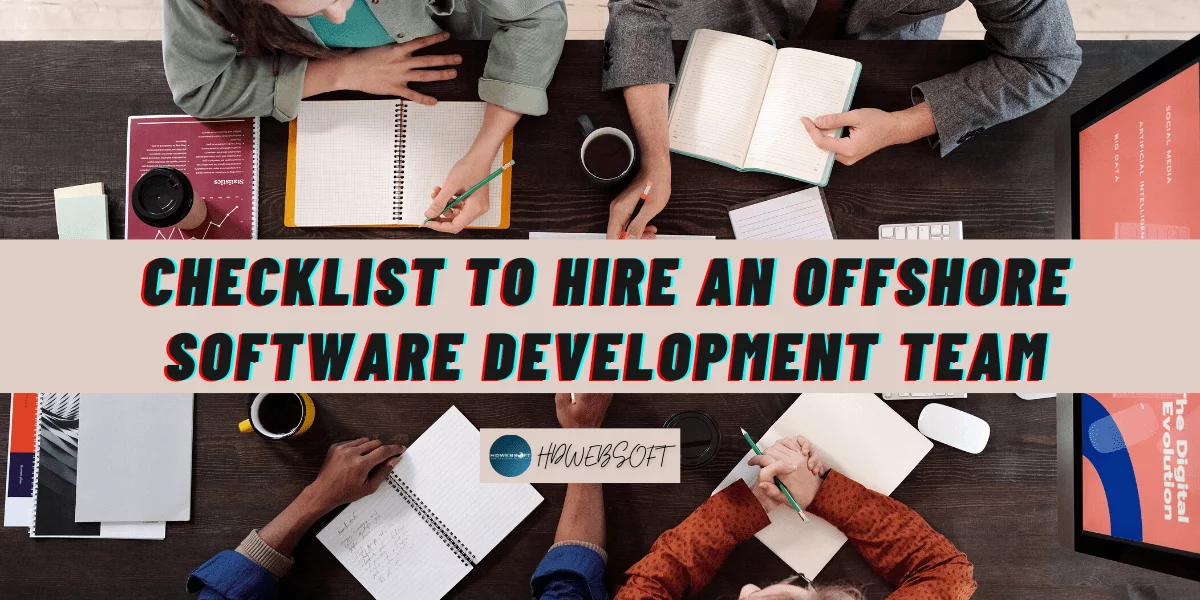 Checklist to hire an offshore software development team
Recruitment is always a challenging task when it comes to selecting talented and trustworthy individuals to firm the groundwork for a company's growth. As other recruiting types, it is crucial that we understand the partner and have ourselves prepared with a checklist for hiring a trustworthy and working-efficient offshore software development team. Acknowledging the importance of this hiring process, we compile a comprehensive checklist for offshoring as a reference.
A comprehensive checklist for hiring an offshore software development team compiled by our experience
HDWEBSOFT is a leading software development company in Vietnam that provides a wide array of services, including offshore software development. With years of experience, as a supplier, we understand the determinants to consider, which clients need to find in an offshore software development team. As a result, we compile all determining factors into a comprehensive checklist for hiring an offshore software development team as your further reference.
We separate all the features and pull them out into 22 determinants. Please kindly scroll down and check them up with your reality process to avoid missing any steps during your decision-making to offshore a team.
Understand the original reason for choosing offshore development
Why you choose offshore software development over in-house or outsourcing development is the initial and essential question requiring a crystal clear answer. In fact, offshoring is well-preferred than other options thanks to its advantages. To be exact, it helps save development costs, access cutting-edge technology, reduce conflicts, and approach a bigger pool of talents.
However, even though hiring an offshore software development team is beneficial to your company, it is crucial that you figure out the services satisfying the following criteria.
The current exchange rate.
Language in use.
Working time that can foster your business.
A professional and reliable team.
In a word, there are a lot of things that you have to consider before hiring an offshore software development team. Therefore, it is essential to brainstorm all your reasons in advance.
Find out what kind of development you need
When it comes to the technology world, there are various types of development that you should know and understand the distinctions. Each project type requires a different development method and technology. In fact, all software development isn't equivalent. For example, a mobile application differs from a custom enterprise solution having unequal development criteria and developers' levels.
As a result, it is crucial that you understand which kind of development you need and consider all related factors for choosing your right partner.
For further reading, please check out our blog How to choose the right software development partner in Vietnam.
Define your project goals
After knowing the development type you need, it is time to set project's goals and expectations. This step helps direct your final objectives to have the most suitable development method. In fact, if you hope to enhance a website's traffic, the development team needs to work on your website's core. On the other hand, if your goal is to make your website more attractive, your developers will increase your web's configuration and use UI/UX design.
In a nutshell, setting objectives and expectations are beneficial to you when selecting a development partner.
Define the scope of work
Setting the project's scope ensures unnecessary work and misunderstandings with the offshore software development team avoidance. As a matter of fact, distance causes lots of trouble in communication and checking conditions; therefore, it would be frustrating if any confusion appeared. Taking a website design to illustrate, do you want to design it with animations or words only? Do you want them to create content or just copy what you provide?
Briefly, be clear on the requirements and deliver exactly what you want to the team.
Determine the budget of your project
Budget is a determining factor for many issues. In fact, it is critical to determine how your budget is to spend on the project. This stage will save you time reaching out to the appropriate development partner since you eliminate all candidates out of your budget.
Identify required skills upfront
There are some particular traits and skills that you may prioritize over others. In fact, offshoring may come with difficulty in language use that causes misunderstandings. Therefore, as a recommendation, a partner with good communication skills or responsiveness is well-preferred. Besides, their skills are even more important in selection. Is it great to have experts in the field building up or maintaining your website?
These two factors need to be considered, which overweighs the other. However, if a team can meet these requirements, that candidate is worth your pick.
Research potential software development partners thoroughly
Do your own research! Don't rely on Google!
For any collaboration, it is advisable that you experience the research yourself to get the feeling, to understand your future partners. Precisely, the study will help you instead of making costly blunders to end up with an extraordinary partner who will provide good value.
Conduct a trial period with the chosen offshoring partner
Before committing, having a trial period is a recommendation to test out your partner's abilities. In this period, you should notice how they cope with an issue in a small project to determine whether they fit your requirements and projects.
If you are satisfied with their work, then full committing with larger tasks is ready.
Agree on timelines and milestones
You should set a timeline and milestones for particular deliverables at this stage. It helps you keep track of the process and ensures that deadlines are achieved. Furthermore, you have all eyes on development expenses and time since each development stage is transparent with a clear timeline.
Create a communication plan
As mentioned above, communication plays an important role in using an offshore development service. In this collaboration, a communication plan has an even more crucial place in this collaboration due to various factors such as distance, misunderstandings, time zones, reporting methods, and etc. In fact, you had better compile all your requirements and make a communication plan where all required information is conveyed.
Communicating method

E-mail communication.
Communicating applications.
Video conference call.

The frequency of meeting

Daily report.
Weekly email report.
Stages report.
Weekly townhall meeting.

Time – This should be consistent and reasonable with your local time and developing team's time zone.
In brief, the clearer a communication plan, the smoother a project.
Include a requirement for weekly reports from the offshore software development team
A weekly report is preferable. To be exact, it represents how much work your partner has done so far and helps you evaluate how effective their work is. Besides, it keeps your project under supervision and on the right track. Furthermore, weekly reports help eliminate potential risks and address them immediately.
Determine the level of supervision required on a day-to-day basis
The level of supervision depends on your experience. To be precise, if a project is new to you, it is advisable to be a frequent supervisor. After that, once you are experienced, a slow back off is more suitable.
Furthermore, the frequency of supervision helps you ensure that everything is on the right track.
Define the roles and responsibilities of everyone involved
To ease confusion between the roles of involved developers, you should clarify and define specific duties for each. For example, who is responsible for the weekly report? Who is in charge of carrying out a weekly presentation of a project? And how the outline should be shown.
This step brings a smoother operating process, which reduces redundancy in work and increases performance.
Find an offshore software development team with your specific technology stack expertise
As other factors that need to be apparent, all other required equipment, protocols, and technical expertise should be discussed at the beginning of the collaboration.
Find a team familiar with your business sector
As a tip for your partner research, a team is experienced with your business field is a plus. In fact, you should learn their success stories from the referrals. In this stage, a cross-check and other checking methods are precious to your study. Furthermore, having an experienced partner with your business sector ensures that all involved people are on the same page to maintain and focus on achieving success.
Understand payment requirements and methods
It would be best if you had a clear mind on how payment is made. For example, does your partner require advance payment? And when to pay.
As a matter of fact, it eliminates the conflict of the payment schedule and ensures that everything is on your budget.
Make sure there are no communication barriers
Communication barriers or language barriers should be noticed. In fact, it is great that your partner speaks the same language as you. However, since you are looking for an offshore development partner, identifying your partner's language is crucial.
It is advisable that you should not assume everyone speaks one language and vice versa.
Find a team that matches your company culture
To have a long-term partnership, it is a plus that you have a team matching your company culture. The working culture may influence the working styles somehow. Have you ever thought about why people have great performance but cannot be a part of a company for an extended time? In fact, the culture may cause conflict non-verbally.
This helps to identify and evaluate a long-term partnership. Therefore, it should not over-prioritize compared to other vital factors.
Be clear about intellectual property rights
Another vital agreement is intellectual property rights. It determines the validity of intellectuals to the developing project. Therefore, it is crucial to ensure that everything is clear without conflict. In a nutshell, you ought to recognize who claims what, and regardless of whether there should be discrete arrangements reviewed for things like showing/selling.
Sign a confidentiality agreement (NDA)
It is vital that you always have a non-disclosure agreement, which prevents involved people from spoiling any confidential information about each other or their business secrets. This NDA will save you from any potential threats if anything goes wrong.
Make sure there is a termination clause
Since nobody knows what the future has in store, it is important to prepare a termination clause with particular conditions in case any party goes against the terms in the contracts.
Trust me, a termination clause is never a waste of worry.
Summarize and represent important discussions in written form
Last but not least, all information, including verbal and non-verbal, needs to be represented in written form. It is a simple way for you and your partners not to omit any important details and tasks.
In fact, you may feel this step is unnecessary; however, you will find it valuable in your checklist for hiring an offshore software development team someday.
Conclusion
Since an offshore software development team offers various advantages, it has gained popularity across the technology world. However, there are a lot of things that need to be noticed. Therefore, we compile the checklist for hiring an offshore software development team as a reference. We hope our sharing helps your organization grow.