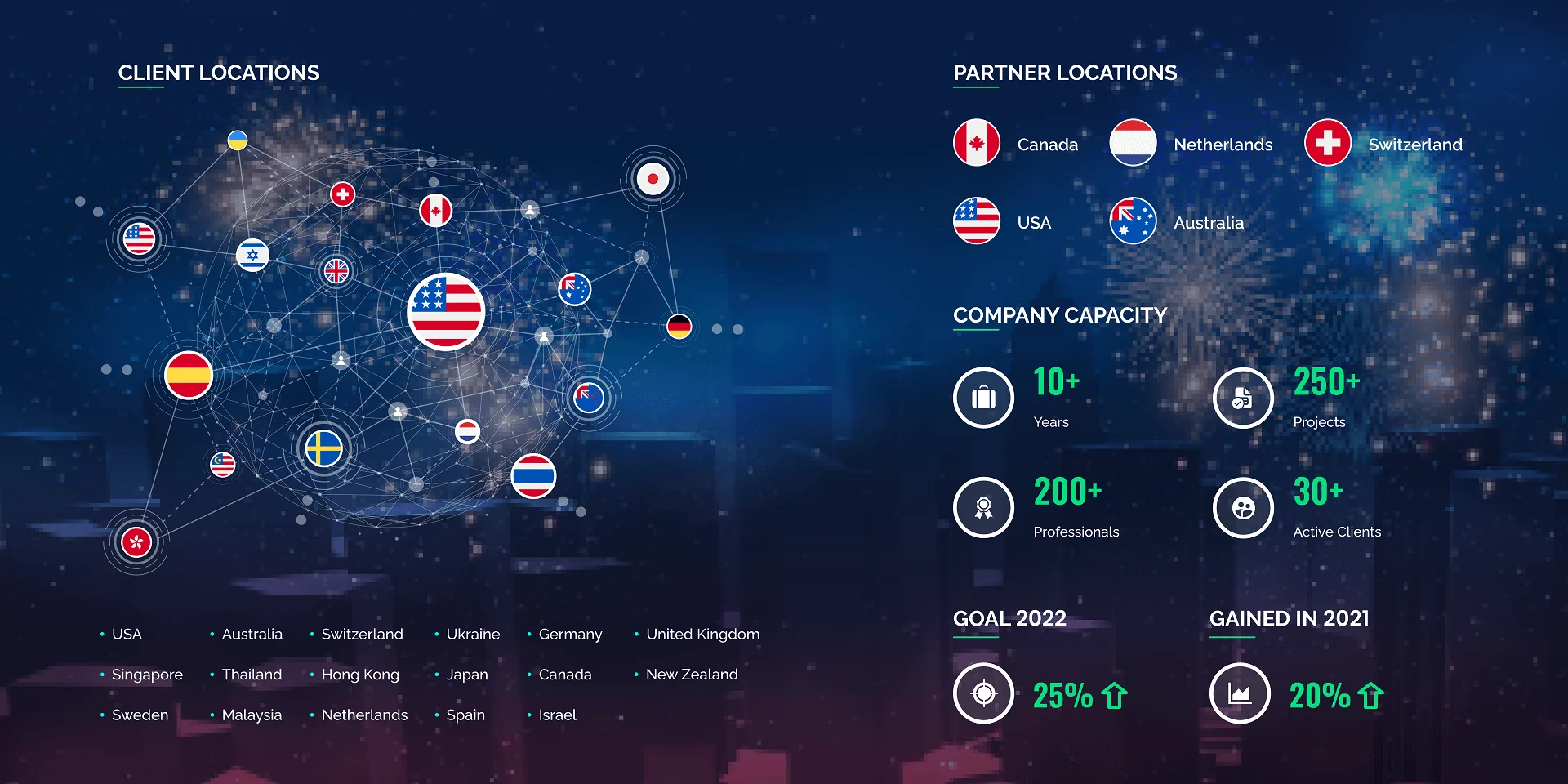 2022 Offshore & Outsourcing Software Development Trends
It is high time to look back on what we have achieved in this tumultuous year. Since the pandemic set in, HDWEBSOFT has stably maintained our outstanding performance in Software Outsourcing and Offshore Development. In a word, HDWEBSOFT takes pride in being a successful software development company in 2021. Now, we are eager to extend our influence on the technology industry and become the most reliable Software Development Company in Vietnam in 2022 by catching major offshoring and outsourcing trends.
In this post, we are delighted to disclose our achievements in 2021 and our targets for next year.
A Year Of Bold Innovation
It is more than a blessing that the technology industry has grown dramatically while giant corporations in many industries also face threats of bankruptcy. In fact, 2021 is well-known as the most tumultuous year, which places pressure on the worldwide economy. Fortunately, HDWEBSOFT can gain success and become a reliable destination for hundreds of businesses, which need a hand in Software Outsourcing and Offshore Development.
As one of the most successful software development companies in Vietnam, let's have a fleeting glimpse of 2021.
A brief list of accomplishments in 2021
With over a decade of experience in software development, we have risen to be the leading software outsourcing and offshore development company in Vietnam. In addition, our software outsourcing and offshore development are predicted to continue outpacing in 2022. In 2021, HDWEBSOFT has intensified its position by developing over 50 resounding successful projects. To be exact, we held a wide variety of intercontinental conferences for well-crafted Custom Software Development solutions for industries.
The expansion of the organization
As one of the most stable and outpaced-growing industries through the pandemic, HDWEBSOFT is honored to welcome talented new members. Currently, we are a big family with more than 250 dedicated and energetic employees. To clarify, our diligent in-house engineers account for 90% of 250+ numbers of personnel. This increase in human resources is one of the factors for a solid foundation to achieve our goal of expansion. In fact, we aim to reach beyond Vietnam and become the ideal top destination for all businesses worldwide regardless of any challenges.
According to our recent quarterly report, our market share has grown at least 20%. This figure exceeds our business goal for this tumultuous period. Above gratitude, we acknowledge that the root of our success is all thanks to our customers. To be precise, they have placed their trust in the right place, so we have an opportunity to perform and make them our loyal customers. Besides, we know that our success is the fruit of effort, bold innovation, and dedication of a whole talented team. Therefore, we constantly strive to enhance ourselves from the inside to the outside (from knowledge to services) to bring the best experience to our customers.
Our new business partners
HDWEBSOFT is a software development company specializing in software outsourcing and offshore development services. With over 10+ years of experience, we are a reliable supplier and business partner to many major organizations across the globe.
As of the third quarter, we took pride in introducing two new business partners from Canada and Switzerland. In fact, since we enforce our position in the industry, we have access to a huge source of opportunities to collaborate with notable enterprises. Truth be told, another collaboration implies an ascent in popularity in mutually beneficial partnerships.
Our new clients
It is our honor to be a trustworthy destination for clients around the world. Currently, we have had our hands on developing several projects for our 8 new active clients. To be precise, 5 out of 8 of our new customers are big corporations with significant influence on their field and notable reputations globally.
Besides, the quantity of existing clients is well-maintained, and the increase in customers, allows us to fortify our position in the industry significantly. Furthermore, it also aids in the maintenance and expansion of the operation.
HDWEBSOFT, in fact, has not been so active in advertising itself on social media platforms. However, new customers always come and stay with us after their research or perceiving how we fulfill our client's needs.
Our veteran IT teams
Our success is thanks to the consensus of a team energetic with regard to technology development. Accompanying us from our establishment day, they have made significant contributions to all of the company's research and development work. Precisely, they have achieved various awards like outstanding employee of the year, and other software awards. Therefore, we do appreciate their dedication and are delighted to have them take care of the products.
Software Outsourcing and Offshore Software Development with Trending Technology in 2022
At HDWEBSOFT, customers' experience and satisfaction are our top priority. Therefore, our talented developers constantly learn and enhance their skills to deliver clients' ideal technology solutions. Besides, our products are praised for consistently exceeding customers' expectations. Precisely, we have in-depth knowledge of many developing technology tools and skillfully leverage their advantages to optimize the performance, features, and operation speed of custom Web Application Development or Mobile App Development. Furthermore, we are consistently well-prepared for applying the latest technology trends to strengthen our influence on the industry.
Skilfully utilizing current technology trends
If you are curious about how we develop your ideal custom web application or mobile application, please do not hesitate to hit the "contact us" button to experience it yourself. In fact, as a successful software development company with excellent performance in 2021, our knowledgeable ITs excel in leveraging the current technology's advantages and utilizing cutting-edge technology to create a well-crafted software solution.
Please do not take us wrong!
We apply the latest technology to achieve your requirements. However, we do not overuse them. In every development collaboration, we conduct an extensive in-depth analysis of the client's requirements, ideas, and budgets to determine whether all the latest technologies are suitable. In a word, even if a technology tool gains us more profit, we are willing to exclude it, if it does not fit your projects.
Software Outsourcing Technology Trends in 2022
Edge Computing
Master of Developing Skills
Composable Applications
AI-driven Automation
Cloud Adoption with Mobile Apps
Cybersecurity & Privacy
Services-based Approaches
Backward Compatibility
Zero-trust Architectures
You can come across various articles discussing Software Outsourcing trends in 2022 like IT and software outsourcing trends in 2022.
Offshore Software Development Trends in 2022
The fast growth of the IT sector
Low-code development possibilities
Surged growth of Artificial Intelligence and machine learning
Blockchain technology
High demand for offshore software development after the pandemic
Greater cost-effectiveness
Increased demand for cloud services (shifting from self-hosted to cloud services)
Mobile migration services to cloud backend instead of self-hosted
In case you are interested in exploring further details about Offshore software development trends in 2020, you can have a glimpse of them via 10 Offshore Software Development Trends For 2022
Conclusion
HDWEBSOFT, your reliable Software Development Partner in Vietnam, is delighted to disclose our achievements in 2021 as well as our cherished plans for the future. Furthermore, we value your trust because we would not be where we are today if it were not for you. As a result, to be stronger and advance further in the race, we pledge to continually improve our knowledge of service quality in order to provide the best experience to our clients.