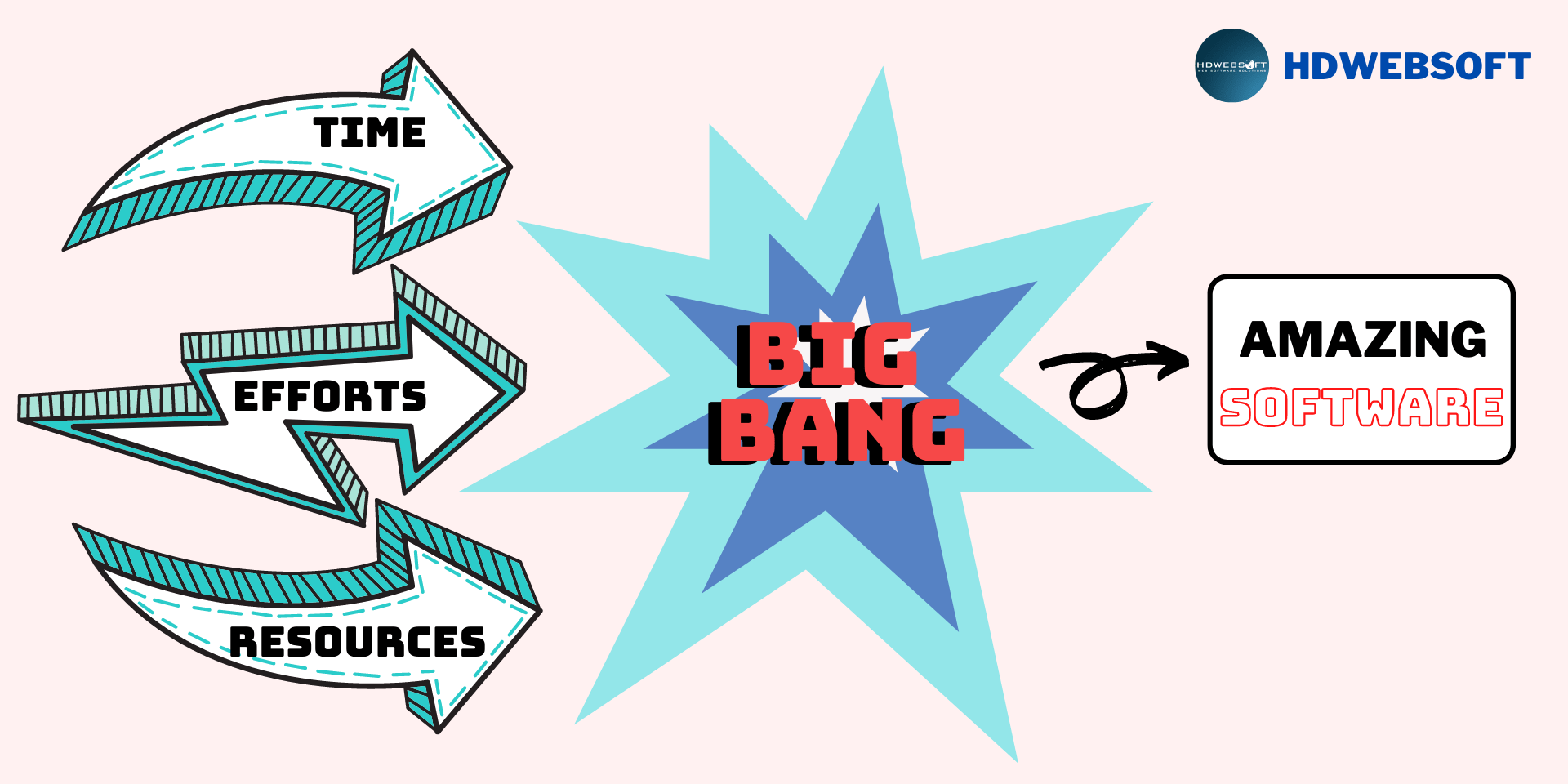 Big Bang in Offshore Software Development | The Big Bang for Your Buck
What creates a high-quality system that can easily meet strict requirements such as tight budget or relatively short time frame? The answer could come from careful planning and execution. Those steps are integral parts of the system development life cycle (SDLC), a standardized multiphase process. Such a process has proven its significance in the construction of any system from initial ideas to functional application. Through time, a splendid array of SDLC methodologies or models have emerged including the Waterfall approach, deemed to be the original one. Whatever the method, offshore software development teams often are required to comply with the detailed stages embedded in it. Today, however, we will take a closer look at a simple yet effective approach, the Big Bang offshore software development and the Big Bang methodology advantages and disadvantages.
A Quick Glance at the Big Bang Offshore Software Development
Software development team must often go through fixed phases in most models of SDLC: analysis of requirements, study of feasibility, design, coding, testing, deployment and maintenance. However, this is not the case for the Big Bang methodology. Specifically, this model takes its name from the cosmological event of the same name, hence the similarity in the way they work: taking all possible time, efforts and resources to produce a "Big Bang". The "bang" could be either an amazing piece of software or a complete failure of the century. The reality is that such an approach has gained more attention from both experienced developers and technical product owners.
As the most effortless methodology in SDLC, the Big Bang model allows us to ignore detailed planning and strict compliance with any specific process. To seasoned developers, this gives them opportunities to exploit their talents and creativeness to the fullest. On the other end, clients without a clear list of requirements for their software products could eagerly wait to see the surprising outcome. Whatever the case, we should give the mentioned method a thorough examination to make better and informed decisions.
The Big Bang Offshore Software Development: Benefits and Drawbacks
On the one hand, we can enjoy various Big Bang methodology advantages:
It is a simple measure. Its nature helps minimize the planning needed to gather necessary requirements. This is especially ideal for customers who are somewhat clueless about the details of their desired products.
It promotes flexibility in producing products of various forms and functions. Since developers are free from compulsory steps, they can let their imagination and talents do the talking, creating products to meet main demands in a relatively short amount of time.
It eases the burden of management. This approach necessitates the smallest quantity of IT workers; just a small team on a project should suffice. As a result, we can significantly reduce the number of managerial figures and processes.
It serves as a training tool for newcomers of the software development industry. With minimum specifications, the model allows those who are new to the industry a chance to harden their skills and gain more experience for more complicated projects.
It consumes few resources. As developers do not have to follow a whole host of particular requirements , they can simply collect all available resources to write desired software.
The above Big Bang methodology advantages can easily justify the popularity of such a model.
On the other hand, we may have to deal with certain Big Bang methodology disadvantages:
It may fail without a trusted software development partner. Although the Big Bang model is newbie-friendly, it may ruin any project if it falls into the wrong hands.
It may include high risks and uncertainty. No detailed planning and expected leadership may pose the risk of getting lost in development. This can yield undesirable products.
It offers low values to big or goal-oriented projects. Projects with clear orientation to achieve specific goals often need a lot of planning and commitment to various stages of development and management, so they cannot take advantage of this simple method.
It is not the right choice for extended projects. Those who consider using the Big Bang are well aware that this model often takes a short amount of time to complete products and is totally unsuitable for lengthy projects.
It may consume large capital. Obviously, by its very nature, the Big Bang methodology can produce unexpected negative outcomes that may disappoint clients and thus calling for further revisions which involve paying extra.
After considering all above-mentioned Big Bang methodology disadvantages, some may remain skeptical of the effectiveness of this model.
The Role of a Trustworthy Offshore Software Development Partner
Smart clients often seek trusted offshore software outsourcing services to minimize all the possible risks and save time for more important business operations. This is especially true for customers who are new to the field or are of limited resources. To successfully exploit the Big Bang methodology advantages, there must be a combination of a prestigious offshore software development partner and clients' absolute trust in its development team. To put it another way, lack of trust from customers and rigid management, more often than not, would limit the developers' capacity and thus lower the quality of the final products.
If you wonder how to find and recognize the right software development outsourcing company to put your trust in, the following elements will guide you. First, the offshore outsourcing company has done a large number of both domestic and worldwide successful projects. Second, it has been capable of turning initial ideas into viable products, even the most complex ones. Third, the enterprise has shown capacities to develop open software for future expansion. Another aspect is that the company has proven its ability to manage budgets well, even the tightest ones. Finally, it has employed necessary methodologies and optimized time, efforts and resources to gain the most efficiency and highest productivity.
We, HDWEBSOFT, with hundreds of highly-skilled software engineers, take pride in our possession of all the above elements. So, if you are finding a trustworthy software development partner, do not hesitate to contact us for a free quote and consultation.