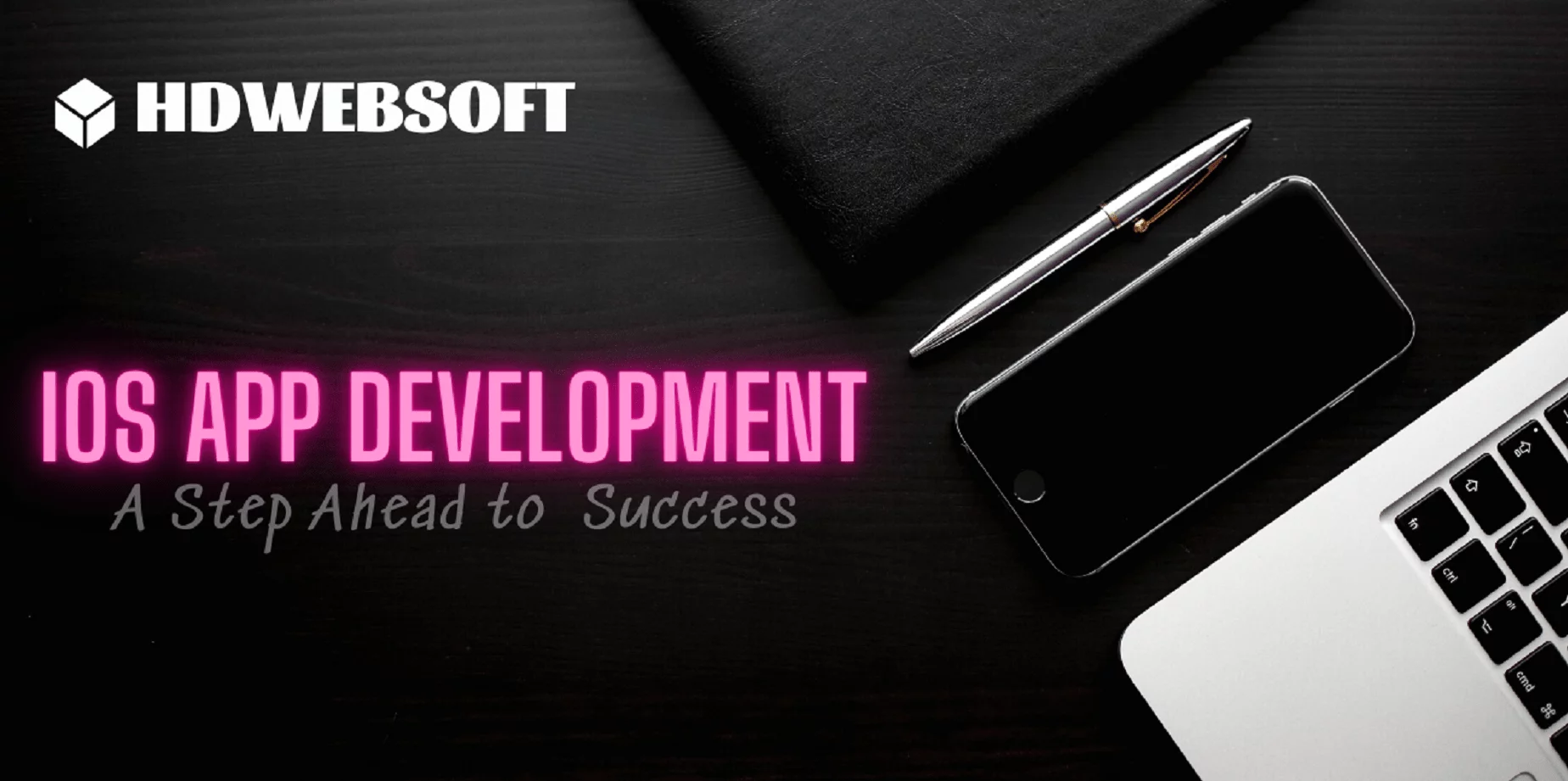 iOS platform is no longer a new term to technology users. In fact, iOS App Development, in general, and Custom iOS App Development, in particular, have been asserting their impact through outstanding technology features and popularity through each stage of development. There is no doubt about its importance to every business growth in any field. However, do you know all the benefits the iOS app offers? Or what characteristics do we need to know before putting a huge investment on it? Last but not least is why iOS App Development always stays ahead of the technology race.
With 10+ years of software development and services experience, HDWEBSOFT, based in Vietnam, is willing to accompany you to turn your ideal business app into reality. Above all, we value your ideas to achieve resounding success.
iOS App Development Background
Mobile App Development has been a robust industry, and there are over 10 operating systems for mobile app creation. However, iOS is always at the front wave and a fertile development area that brings great profits to investors and developers. According to the newest report of Business of App, even fewer users than the Android platform, the iOS app accounted for 65% of total app revenue in 2020. Specifically, its revenue was $72.3 billion whereas having less than 15% market share compared to Android.
What is iOS App Development?
iOS Application Development, formerly iPhone OS, is an operating system to build mobile apps for Apple products such as iPhone, iPad, etc. This is an exclusive platform dedicated to providing mobile apps available only on the App Store, owned by Apple Inc. In a word, never exaggerate when saying that Apple has created its empire by developing its proprietary platform to provide services. These limitations also create users' value when using iOS App Development products and Apple products in general.
Besides, its elegant yet straightforward models are iconic among various mobile models. Furthermore, it helps increase both recognition and proves its class in the fiercely competitive market.
iOS Programming Languages
iOS App Development has two notable main programming languages, such as Objective-C and Swift. Let's have a detailed look at these languages.
Objective-C
Objective-C, developed in 1984 by Tom Love and Brad Cox, was a primary language for iOS App Development. It inherits the C program acquiring syntax, types, and C's flow control. Well-known for its objective-oriented and message transferring among objects, it was a primary language for the iOS App Development of Apple for decades. However, Objective-C is no longer used in the iOS operating system after the Swift release since it cannot adopt new and modern needs.
Swift
It is the current language program for iOS App Development. First released in 2014, Swift is less complex yet more secure than Objective-C. As a result, it has become the #1 programming language for Apple operating systems since 2018.
Custom iOS App Development
What is Custom iOS App Development?
Custom iOS App Development is an iOS application that you can develop to be unique yet compliant with all of Apple's standards. Your custom iOS application will be a responsive application suitable for any screen size, which operates smoothly and allows users to enjoy the best outstanding features. In a word, custom iOS App Development is how your application becomes distinctive and more attractive to users among million available apps on the market.
iOS App Development Benefits
As the second popular platform in the mobile app development field, Apple Inc has developed and consolidated its products' most progressive and innovative advancement techniques. However, have you ever thought about the benefits you would achieve when investing in custom iOS App Development?
Branding Improvement
The iOS operating system is also famous for its great customer services. It is like a value-add for your custom business apps since it enhances user experience as well. As a result, your brand will benefit from these determinants.
Hi-tech savvy and loyal audience
Apple products have flawless performance and high-fashion models to adopt its high-tech savvy lovers. Even though it has less than 15% of the market share than Android, the Apple lover community is huge and loyal by looking at its yearly sales volume report. Additionally, iOS users are affluent and willing to make in-app purchases more than other platforms' users.
Time-savings
The development and testing time for Android apps takes quite a long time than other platforms due to its complex and numberable testing versions of OS. Unlike Android, iOS has a strict development set of requirements; therefore, the newly developed app must meet the latest iOS version criteria. It helps to reduce the practice and testing time, which accelerates the on-market publication. In a word, it is the primary benefit of custom iOS App Development.
International market approach
iOS devices are popular in many nations, especially in developed countries. According to Statista's report, China and the US are the two big markets that Apple products dominate. Under business's scope, iOS apps are like a potential approach to reach out to these giant international markets.
iOS App Development impact
The iOS operating system has been asserting its resounding success in the market through each development period. The possibilities of iOS App Development impact are undeniable on the innovative technology field. Below are two significant impacts of iOS App Development for your business growth.
Business expansion
As one of its major benefits, it helps your business reach out to more significant international markets. In a word, it plays a primary role in your worldwide business expansion.
ROI improvement
iPhone, a segmented market of Apple, is a robust app development segment. As mentioned above, iOS users are willing to make in-app purchases and appreciate fancy and sound applications. As a result, both investors and developers can gain benefits from this operating advancement.
A Step Ahead Over Other Platforms
Have you ever been curious about how many mobile operating systems are in use? – In fact, there are over 8 operating systems such as Android, iOS, Windows, and etc. However, how iOS can keep the heat through decades of development is a big question. Since Android has the largest market share in the field, let's discover a step ahead of the race of iOS by making a comparison.
Development time
iOS beats Android in this round battle. In fact, due to various testing versions of Android, it requires a longer development time than iOS, which restricts the publication time on the market. It decreases the competition in the market and negatively affects business growth. Furthermore, with a good UI/UX design, profitability, and loyal audience base, these determinants make (custom) iOS App Development productive for businesses.
Cost
Cost has always been the most critical factor when it comes to investment/ development. In a word, a resounding success is combining the lower cost with vast revenue. Therefore, between more considerable development cost for the most popular mobile development platform and cost-efficient one but positions the 2nd influences in the field, which one would you invest in? – Obviously, you may go for the cheaper app development system, which is iOS App Development.
In fact, the development cost, maintenance fee, and further expenses of the iOS operating system are less expensive than Android. In addition, iOS mobile app development proposes better scalability than other platforms via custom advancement to achieve profits and positions in the business.
Integration/Synchronization
The iOS operating system is a closed ecosystem developed by Apple for its private supply and consumption services. Developing both software and hardware provides a better user experience, including a quick and risk-free synchronization. Additionally, the updates timeline is more stable and frequent than Android due to software and hardware integration.
In contrast, Android has software and hardware built by different companies. Furthermore, the operating system must be non-exclusive for every one of the gadgets and brands. It, overall, raises a security issue to users' private information.
Responsive 3D touch and recognition ID
Throughout its development, iOS has always been at the forefront of recognition and input capabilities. iOS gradually removed the fingerprint recognition button to face recognition to eliminate unnecessary buttons. With the responsive touch screen and fast response speed, it helps optimize the user experience. These functionalities are adopted on many iOS applications and devices. However, for face recognition, it is only available for iPhone X and later devices.
On the other hand, the responsive 3D touch with fast response speed seems only available for the high-end market segment of Android since it provides various 3D touches.
Conclusion
As we have gone through every primary thing we should know about custom iOS App Development, it is your time to reconsider your business plan to invest in iOS App Development for your business. The heat that it brings along across the globe is undeniable whenever a new product is released. Furthermore, there is much more in-store from the iOS operating system that will be revealed in the near future, which is worth your investment and waiting time. With many distinctive advantages compared to other platforms, it is no exaggeration to state that it has a step ahead of the race.
In case you are still looking for a reliable custom iOS App Development partner. HDWEBSOFT, based in Vietnam, ensures that your ideal business app comes true at an affordable price. We can especially assist your resounding success at whichever project's stage. Here are our top iOS App Development Services.