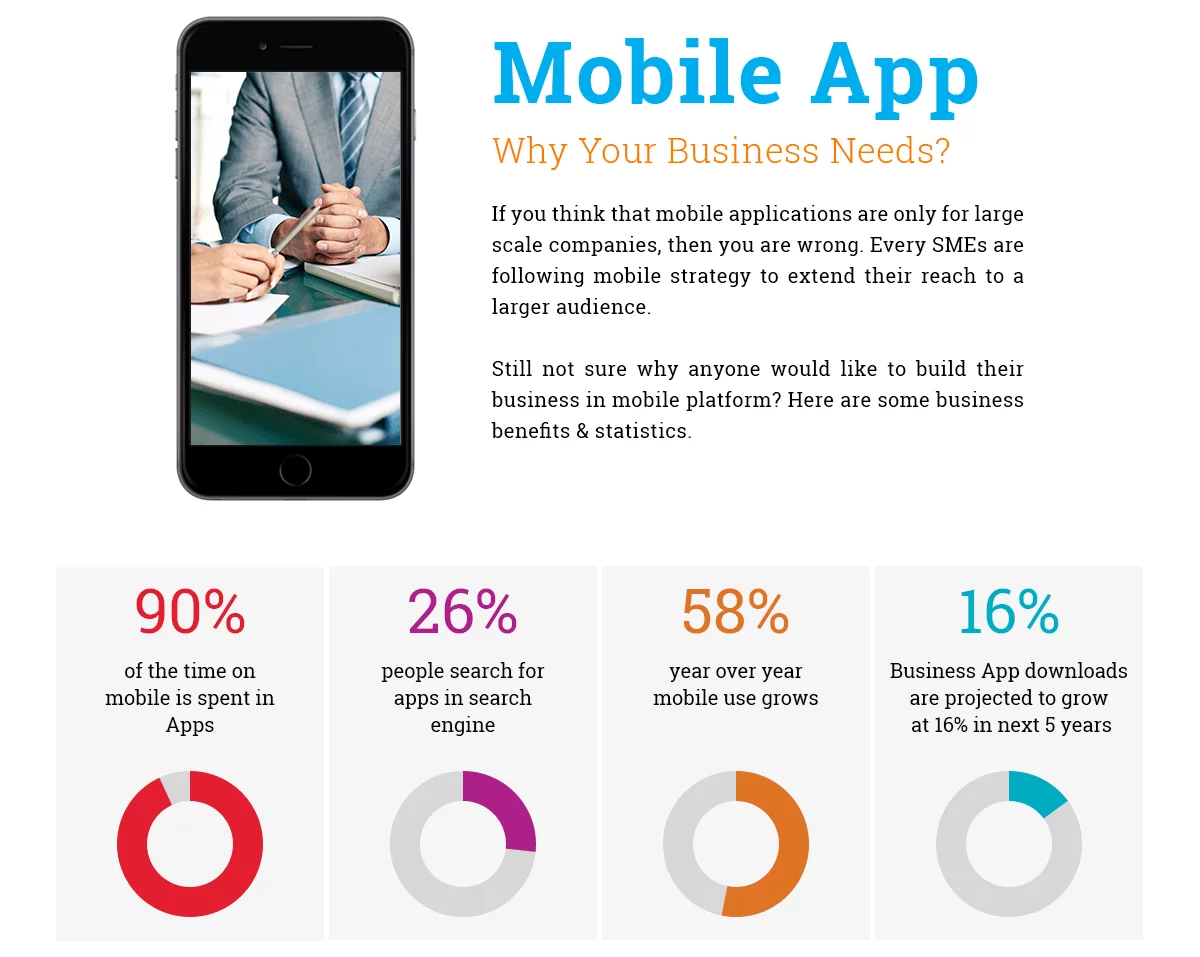 The need and the purpose of creating an app for your business is to stay in touch with target audience in an effective way and also to boost marketing opportunities.
Here are some of the major uses of a mobile app which can help organizations understand its importance for business publicity:
Better Visibility
Data have shown that people use their phones and tablets more than they use desktop and laptops. People use mobile apps to buy things online; 50% of online shopping is being done via apps. One of the major reasons is the ability of a mobile app to be on customer's phone all the time and providing them easy access.
Successful Publicity
Apps are considered the best tools to offer business information to users at their fingertips. Mobile apps can easily and effectively promote your marketing activities like reduced or increased prices, new deals, event, and offers.
Recognition
A mobile can be incredibly helpful to build recognition of brand among target market and competitors. In order to achieve desired results, you have to make sure that your business app must have features that focus on user's queries. It is very important for new brands to develop interest and trust of the users by bringing uniqueness to the app. Once users like your app, they will come back to buy your services and products.
Enhanced Communication
The most crucial part that is communicating with customer effectively is managed through the app. A mobile can be highly effective in order to communicate between buyer and seller through its instant messaging feature. Users are always looking for better and clear communication, if you give them that, they come back to you.
Finally You Win
Although, mobile apps are modern way to connect brands to customer on personal level, there are some small business that are still dealing with customers through websites. If new and established businesses want to stand out of competition then they need to create a promising mobile app that can connect them with their potential customers.
Closure
An interesting, engaging, and intuitive mobile app can create millions of opportunities for companies to stay connected with their customers which is the most crucial part for any brand. An app targets the specific audience and generate revenue beyond imagination.
Source: https://www.oodlestechnologies.com